This post brought to you by World Market. All opinions are 100% mine.
—–
Father's Day is coming up in just a couple of weeks, so I took my cute hubby shopping to find him a gift.  We stopped in at World Market–one of my most favorite stores–to have a look around.  They carry a lot of great items that guys will love–perfect for Father's Day Gifts!
As we looked around, I had to keep focusing on the goal at hand–I was easily distracted by all the fabulous summer stuff they had there, lol. Too bad he didn't want those cute pillows I saw.  ☺
Rick's focus kept on coming back to everything BBQ & Grilling.  We grill a lot in the summer, and he is most definitely master of the grill.  I'll use it if I have to, but it's his baby.  It was so fun to see him looking at everything–once, twice, three times.  ☺ He was in heaven!
He also loved all the vintage candy they have, and these awesome nostalgic sodas.  We had to buy a few treats for the road!
With Memorial Day that same weekend, it was the perfect time to try out all of his new grill gear which he was just itching to do! We invited friends over, and had a blast eating yummy food, chatting, and watching the kids run around and play.
Our kids never eat a whole burger (except Henry ☺), so we couldn't wait to try the Mini-Hamburger Slider Set. It made 12 mini burgers, plus it had a bun cutter, so you could cut our buns down to fit the meat.  I'm telling you…SO cute.  It was also the perfect portion size for our littles. Making burgers for the adults was a cinch with our new Double Burger Press!  Rick also picked out this Nonstick Grill Skillet, of which I was really happy!  I love and adore grilled vegetables, and being able to do it so easily was fabulous.  And delicious.  I can't wait for our garden vegetables to be ready!!!
Of course we had to have dessert!  As you all know, we are a campfire and S'mores lovin' family, so Rick couldn't resist these s'mores baskets for the campfire!
I think the kids liked them.
S'mores give them a lot of energy.  ☺
It was perfection.  I see a whole lot more BBQ's and campfires in our future!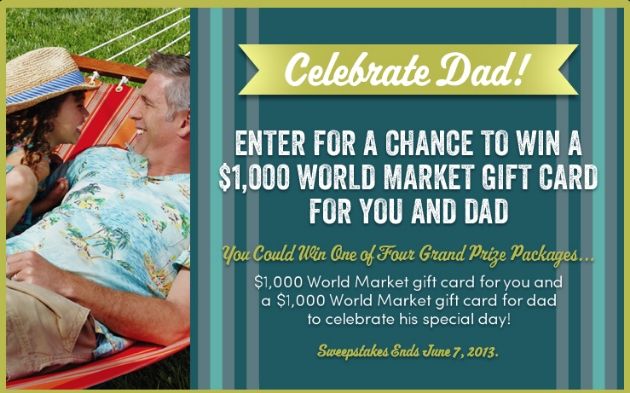 Cost Plus World Market is Celebrating Dad this year with our Dad's Day Sweepstakes. Facebook Fans can enter for a chance to win one of 4 Weekly Grand Prize Packages: $1,000 World Market gift card for you and a $1,000 World Market gift card for dad to celebrate his special day! You can also earn bonus entries for liking their Facebook, Twitter, Pinterest, Instagram & Tumblr brand pages (via World Market's Facebook page) for even more chances to win.
I have very blessed to have two special dads in my life…my father, and my husband.
My dad has been dubbed my all of his children, grandchildren, and pretty much everyone around  him as "Super Grandpa". He loves spending time with his kids and grandkids, and there isn't anything he wouldn't do for them.
*With both of of my twin pregnancies, and with this last one, he and my mom came out to stay for a few weeks to help.  My dad watched my boys (and girls when they weren't in school) every single day–taking them on adventures, playing with them, feeding and bathing them, reading bedtime stories, and tucking them into bed.  Henry would even sneak in with my dad in th middle of the night to snuggle with him.  It helped me rest, and it has cemented a relationship with my kids that can't be broken.
*When my twin girls were born, and I was SO exhausted, he slept in my hallway, right outside their nursery, so he could wake up with them at night.
*All growing up, and into my adulthood, I've know that my Dad was there for me.  If I needed him, he would come–drop everything to help me.  As a teenager I had to take advantage of that a few times.  We won't mention how many flat tires I got in a 6 month period. ☺
I knew when I was dating, that I wanted to find someone like my dad…and I did.  My husband Rick is adored by our kids.  It's the best part of the day when he comes in the door, and when he has to be gone, they miss him terribly.  He plays, teases, helps with homework, reads books, and is totally hands on when he's home. He cooks great meals, is a talented woodworker, is super funny, and can fix anything.  He's the best dad ever!
Happy Father's Day to both of you–♥ you!  xo