I'm SO excited to introduce a brand new series here on Brown Paper Packages! I created (and named ☺) this blog so I could talk about and share all of my favorite things, and one of those is living a healthy lifestyle. I love running, exercise, and healthy eating, and then there's my what seems to be my eternal goal to lose those last 15 pounds. So… "Fit Friday" was born, and dedicated to all of those things. As busy moms, grandmothers, and women, trying to find a balance in all of the craziness of life can be a challenge, and I know how hard it can be, which is why I'm really looking forward to this.
I immediately knew who I wanted to be the monthly contributor and author. Her name is Erica, she is my bestie, and our shared love of running (we trained for and ran our first marathon together last year) and healthy eating is just one of the many things we have in common. She is uber talented at so many things, including crafting, and you can also find her on her blog, Snippets of Wonderful. I'm thrilled to have her here, and I just know you are going to love her, and all of her ideas!

So…join us today, and the second Friday of each month–we'll see you here!
….
Hi everyone! I'm so excited to be a new contributor to Kierste's blog! She's a real life best friend who has now moved far away but I can testify she is just as amazing in person as she is on her blog! I'm one lucky girl to know her and be part of her life and now blog :) My name is Erica and I'm a former 2nd grade teacher turned stay-at-home mom. I have two little girlies and am expecting our third baby in the fall. I'm a typical girl who has struggled and been self conscious about my weight and body almost my entire life. During college and my early married years my weight started fluctuating within a 20lb range and I did not like it! So I decided to do something about it :) I successfully tried Weight Watchers to learn better eating habits and took up running.
Since then I've run several races including a half and full marathon, maintained my goal weight, and completed the P90X program. Fitness and eating right has become a major passion of mine the last couple of years. I am in no way a dietician or personal trainer – just a normal girl trying to exercise and eat right to provide a healthy lifestyle for myself and my family. The exercising has been an example to my kids on ways to stay active and the eating in our family has become less about processed foods. We now put a larger focus on consuming more fresh, whole, natural foods. I am still known to dig into buttercream frosting straight from my freezer and can rarely go out to eat without getting fries, but over the years I've tried to make a more conscious effort to maintain a healthy balanced life and do all things in moderation. I'm excited about Fit Friday's and hope to provide a few real life suggestions, tips, and pointers to help others get to or maintain their own healthy lifestyle.
I don't know about you but it seems sometimes that our summer is WAY busier than the school year. I don't know how that always seems to happen! We are constantly on the go – whether it be traveling in the car, going to the park, riding bikes, swimming at the pool, etc. we're always outside somewhere doing something!
I'm always on the hunt for something super easy, yummy, and healthy to hurry and bring along in case I need a snack. I have lots of favorite snacks but don't always want to pack and tote around a cooler everywhere I go to keep some food products good and cold. I just want something I can hurry and grab, throw in a bag, and move along to our destination!
Here are my top 4 on the go snacks for summer time:
Fruits and vegetables are by far the healthiest thing to grab. At this time of year there are so many varieties in season and there are lots to choose from. I swear over half my food budget every month is spent on fruits – I've been known to buy and consume some crazy amounts of grapes at this time of year! Grab an apple, nectarine, berries, carrots or if you have time cut up a pepper or cucumber. All delicious and will leave you feeling good after!
I'm usually not the biggest nut eater. Not because I don't like them – I know they are good for you but I always find myself wanting to reach for handful after handful and always end up eating way more than the recommended serving. So when I came across these 100 calorie individual packages I knew I had to give them a try. Of course I went for the cocoa flavored ones but there are tons to choose from. They are quick to grab and take along but won't leave you with the guilt of eating a few too many!
These babies have been a long time favorite of mine. I love almost every flavor they carry and just tried the new PB & J ones made by Fiber One. They are delish!!! These are just over 100 calories, full of fiber, and provide a yummy sweet treat that will actually keep you full!
I have never been the biggest fan of jerky. Something about the texture – and I always had it in my head that it was hard to chew. One day my father-in-law brought along a bag of these nuggets when visiting our house and said I had to give them a try. I did and have loved them ever since. I have tried a few varieties, but the teriyaki beef ones have remained my favorite. They are packed with protein, very low in calories, and make an appearance just about every time we take a car trip!
steamingpileofguilt.blogspot.com
There are a gazillion different snacks out there. These are just a few of my healthy summer time favorites I like to have on hand to keep me from reaching for the Cheetos or Chips Ahoy :) Give one a try and maybe it will become a favorite of yours as well!
See you next month!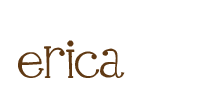 Disclaimer: Erica is not a dietician or physician, just a girl that enjoys and lives a healthy lifestyle, and is sharing her ideas. All ideas and tips are to be followed at your own risk.