Although the weather just may be cooling down into the 70's for all of you in the south for those of us in other places throughout the country it's beginning to freeze. It's dark when we wake up and dark when we eat dinner and it just doesn't make it very conducive to outdoor exercising. Whether it be unsafe, extreme weather, etc. if this time of year keeps you indoors for exercising you just may be fearing…
BOREDOM!!!
If you find yourself not willing to strap some TRAX onto your shoes, wear double layer socks, and a ski mask to venture outside into the snow and ice to try and workout – you have no need to fear – there are lots of things to do inside to continue your workout routine.
You may invest in some workout DVDs like Jillian Michaels or P90X, you may join a gym, or you may even purchase a large piece of workout equipment for your own home.  
 Five years ago we purchased a Nordic Track treadmill and it has been one of the best investments we have ever made. It's so convenient to be able to go hop on when the kids are playing, sleeping, or late at night. When it's blistering hot or ice cold I know I have that thing waiting for me in the basement. I can walk, run, do sprint intervals, etc. I have logged well over a thousand miles on that thing and love to know its always there when outside exercising isn't an option.
However – do not get me wrong – the

treadmill can be BORING!

I've tried absolutely everything and sometimes certain things work better than others to keep me running like a hamster on the wheel. Sometimes I read a magazine, other times I watch TV, sometimes I blast my IPOD, but the ONE thing I've found to work wonders is HIIT training. 
HIIT stands for High Intensity Interval Training
Basically, you go really fast for a minute or a few, then you take it easy, then you do it again – most likely at a different speed, then you keep repeating it over and over again for a certain amount of time. 
Why do I love it? 
1. Tons and tons of physical benefits (healthy heart, more fat burn, etc.)
2. It keep things exciting! I'm constantly having to adjust my speed on the treadmill every minute or two that I don't ever have time to get bored from doing the same redundant thing for 30 minutes. 
3.

It's quick. HIIT training consists of short bursts with the entire workout usually lasting 30 minutes or less.
4.

You don't have to have a treadmill to do it. You can be outside, you can do it on an elliptical, bike, weight training, jump roping, etc.
5.

Also, you can adjust it to your physical ability – whatever your level, there's a routine that can work for you!
Here is a sample HIIT routine: 
If you'd like more just search HIIT workouts on Pinterest and you're sure to find a million different ones!
To read more about the benefits of HIIT – check out this quick read from Shape Magazine.
If you're facing workout boredom and have never tried a HIIT routine – give it a shot. I'm not saying it's easy or even super fun but it's sure to get your heart pumping, your body sweating, and your mind a little less bored!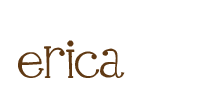 …..
I just have to put in my own 2 cents about HIIT.  Running on the treadmill is one of my LEAST favorite ways to exercise, but I have one because sometimes it's the only way I can fit my exercise in for the day with little ones.  HIIT makes a huge difference, and it's a really great workout.  Definitely a boredom buster!!!  Thank you, Erica!!! :)