I first tasted this pie at my hair salon.  :) One of the stylists had made it and brought it in for people to taste, and I fell in love immediately.  It's very similar to baklava, but SO much easier to make. It's incredibly rich, chock full of nuts enfolded in a buttery, flaky crust and soaked in a delightful honey syrup.  Seriously good.  My kids love this so much, that one of my boys even asked for it for his birthday, in lieu of cake!!!
It looks like it might be complicated, but it's really quite easy, and there are few ingredients.  It's perfect for the fall, and into the holiday season. It looks fancy, so the presentation works really well for a party or gathering. Or…you can be like our family, and eat it right out of the pie dish! ☺ I served it with a dollop of honey whipped cream and a sprinkle if cinnamon & sugar, but vanilla ice cream is super yummy with it too! The recipe calls for walnuts, but I've used pecans before too, and it's just as delicious–just a different taste. This is a family favorite, so ENJOY!!!
Honey Nut Pie
Author:
Prep time:
Cook time:
Total time:
Ingredients
4 c. chopped walnuts
1/4 c. packed brown sugar
1 tsp. ground cinnamon
1 package frozen phyllo dough, thawed (I used a little more than half of the box)
1 c. butter, melted
3/4 c. sugar
1/2 c. each water and honey
1 tsp. vanilla extract
Instructions
In a large bowl, combine the walnuts, brown sugar and cinnamon; set aside.
Place a sheet of phyllo dough in a greased 9-in. pie plate; brush with butter. Keep remaining dough covered with plastic wrap and a damp towel to prevent it from drying out. Repeat seven times (seven more layers of the dough, brushed with butter). Sprinkle 1 1/3 cups nut mixture into crust.
Place a sheet of phyllo over nut mixture; brush with butter. Repeat three times. Sprinkle with 1 1/3 cups nut mixture. Layer with another sheet of phyllo; brush with butter. Repeat three times. Sprinkle with remaining nut mixture.
Top with a sheet of phyllo; brush with butter. Repeat seven times. Fold ends up onto top of pie; brush with butter. Using a sharp knife, score pie into eight pieces. (You can do more pieces if you like.)
Bake at 350 for 40-45 minutes or until golden brown.
Meanwhile, for the syrup, combine the sugar, water and honey in a saucepan; bring to a boil. Reduce heat; simmer, uncovered, for 10 minutes. Add vanilla. Pour over the warm pie. Cool on a wire rack. Refrigerate leftovers.
*I made the whipped cream by beating heavy cream until soft peaks formed, then added 2-3 T. honey until I achieved the desired sweetness. I placed a dollop on top of the pie, then sprinkled it with cinnamon & sugar.
There are so many fun projects to choose from- recipes, decor, Halloween related and more! We'd love for you to pin the collage below, check out my fabulous Honey Nut Pie, and then go see all the other fabulous projects created by some of our friends. Make sure to come back on the 10th each month.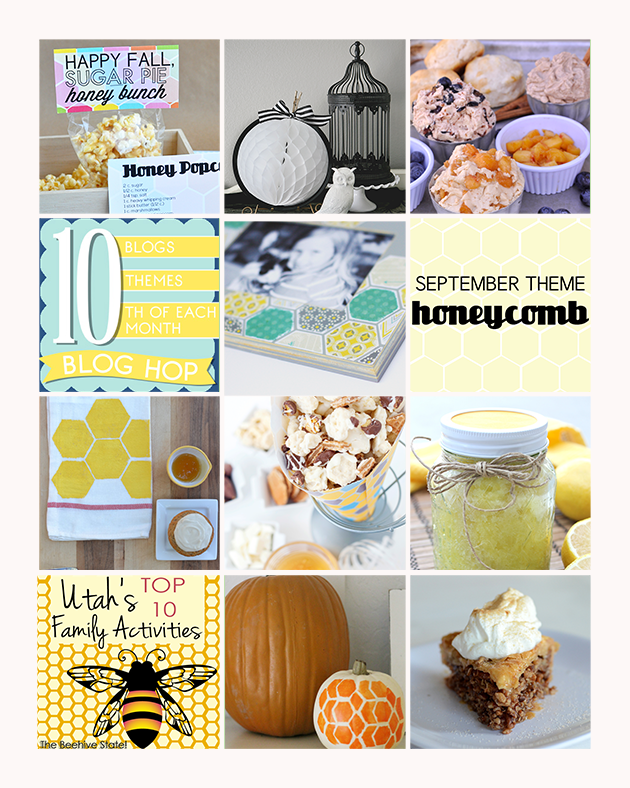 To see each fantastic HONEYCOMB project up close, join the Blog Hop!
———–