Let's welcome Fawnda, from Fireflies & Jellybeans! She is our featured blogger today, and we are so excited to have her here.
———–
Brown Paper Packages Readers! ! I am so excited to be guest posting here today!
Let me introduce myself!
I am Fawnda from Fireflies and Jellybeans a little DIY blog that I co-author with my best friend Jeannine.
I am a mom to a 2 year old son (who we adopted from Korea about 1.5 years ago!) and a wife to an amazing man! I love all things crafty!
We have all kinds of fun stuff going one at Fireflies and Jellybeans! We have a Show Off Your Stuff Party every Thursday where you can link up your posts that you want to show off!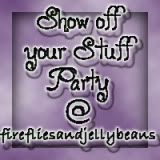 Today I am going to show you how to make this FABULOUS book Page wreath! I am going to show you 5 different options of how you can decorate it too!
Here is what you will need:
Foam Ring (I got mine from The Dollar Tree)
Ribbon (Also from The Dollar Tree)
An old book (This is a romance novel so I thought it would be perfect for this valentine craft!)
Craft glue
1. Rip out some pages in your book. The ring I used was about 8 inches wide and I used about 25 pages.
2. Fold your pages in half, make a good crease and rip them in half.
3. Now fold those paper in half, make a good crease and rip them in half.
4.place on strip of paper under the foam ring and glue the two edges to the back…
…and keep going all the way around. I found that if you put a little more glue on the ends it holds better.
Here is what it look like about half way around from the front.
Go all the way around the ring. When you are done make sure that there are no gaps. If there are just put another strip of paper over it to cover it up.
Hang it from your ribbon and you have
Option #1: Leave it plain
OR…
You could print a word on the back side of scrapbook paper (or card stock). Make sure you use the MIRROR IMAGE option! Cut out the letters with an Exacto knife and flip them over.
You can use straight pins to attach the letter to the wreath…. that way if you want to change it later you can!
Hmmmmm, that seem a little hard to read… I think I need to have the letters darker.
I used markers to color my letters red and I also outlined with black. I add some red ball tipped pins for added bling and I love how it turned out!
Option #2: Love Letters
OR…
Cut out strips of paper (Mine are 1 inch X 12 inches)
grab some buttons (never mind the Circe book pages… I did not use them)
Fold your strips back and forth and back and forth…
Glue the ends together and let the glue dry.
Flip it upside-down and push the sides down to make a circle.
Put a blob of Hot glue in the middle and hold the flower in place until the glue cools.
hot glue a button onto the front.
Use a straight pin to attach it on to your wreath and you have
Option#3: Love letters with Flowers!
OR…
Take off the Love letters and you get option #4: Just Flowers!
Option #5
I used:
Burlap (2 colors)
Buttons
Needle and Thread
Craft Glue (not pictured)
Colored Rhinestones
1.)Make some flower templates. I used clip art and found some simple black and white flowers and cropped them to 3 different sizes.
2.) Cut out your templates, pin them to your burlap and cut out the flowers on the burlap.
Cut all three sizes of both colors of burlap.
3.) Cut a strip off of one side of your burlap to make the strap to hang it up.
4.) Assemble your flowers with alternating colors and put a button in the middle. Hand sew the button with you needle and thread to attach all the layers.
5.) Using craft glue attach your rhinestones to your buttons of the flowers.
6.) Use straight pins to attach your flowers to the Book Page Wreath.
Use your strap to hang it up!
——–
Thank you so much, Fawnda, for sharing this super fun project! Have a great weekend, everyone!